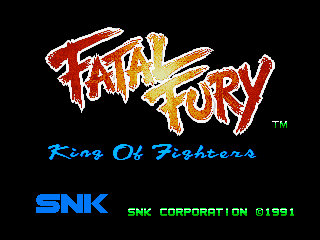 Fatal Fury: King of Fighters (餓狼伝説 ~宿命の闘い~ Garō Densetsu Shukumei no Tatakai, "Legend of the Hungry Wolf: The Battle of Destiny") is a 1991 fighting game released by SNK for the Neo Geo arcade and home platforms.
The plot of Fatal Fury centers around a martial arts tournament known as the "King of Fighters" tournament, held in the fictional American city of South Town and sponsored by local crime boss Geese Howard. Ten years prior to the events of the game, Geese murdered a rival martial artist named Jeff Bogard who was on his trail. Now, Jeff's sons, Terry and Andy, along with their friend Joe Higashi, enter the tournament to get their revenge on Geese.
Characters
Edit
Playable Characters
Edit
Non Playable Characters
Edit
Ad blocker interference detected!
Wikia is a free-to-use site that makes money from advertising. We have a modified experience for viewers using ad blockers

Wikia is not accessible if you've made further modifications. Remove the custom ad blocker rule(s) and the page will load as expected.